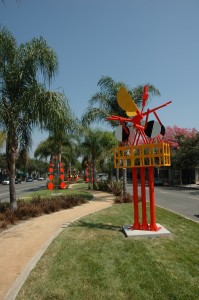 The City of West Hollywood has on view through June 2010 an exhibit of Los Angeles artist Peter Shire's colorful, geometric sculptures. The exhibit is part of the City's "Art on the Outside" program and features six of Peter Shire's large-scale sculptures on the Santa Monica Boulevard median between Doheny and Almont Drives.
Peter Shire is well known for his ceramic teapots and whimsical, geometric sculptures. He has worked in craft, fine art, industrial design, architecture, furniture, ceramics, and fashion. His work is in many museum collections throughout the United States and abroad, including LACMA, the Metropolitan Museum of Art in New York, and the Victoria and Albert Museum in London. Shire has taught art and design courses at a number of Los Angeles's art and architecture schools. His public sculptures can be found in Los Angeles at Elysian Park, the Academy Village Housing Project in North Hollywood, at the Ramada Plaza in West Hollywood and in Phoenix and Las Vegas.
The exhibit features some of Peter Shire's signature sculptures including Tre Venezia, Cassata, Murano, and Rockin' Angel. The sculptures range in scope and size from 12 feet to 20 feet in height.
The exhibit is curated by Merry Norris, a well-known public art consultant and arts advocate. Founding Merry Norris Contemporary Art in 1978, she has provided curatorial services to corporations, public institutions and private collectors including Los Angeles World Airports, UCLA, Los Angeles Central Library, Pacific Design Center and the cities of Los Angeles, Pasadena, Brea and West Hollywood.