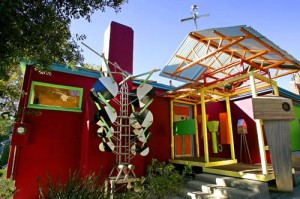 The Los Angeles Times takes us on a home tour with artist and designer Peter Shire. Shire describes his refurbished 1937 rainbow-palette home as "California bungalow gone wrong."
The original stone fireplace with weeping mortar is painted lavender, complemented with a mint mantle set against a crimson wall. Bookcases hold volumes on art and the ceramic teapots that Shire has made since his days at Chouinard, the famed and now-defunct Los Angeles art school. Cats sprawl on the kitchen floor, a crazy quilt of 1950s-flavored green, gray and pink linoleum tile. Shire's hand-built furniture — Douglas fir cabinets with vibrant teal-painted details from the 1980s, and more recent steel and glass tables — are layered with paintings and drawings.
Shire also left a mark on his former Echo Park residence (above), which is now occupied by his brother, Peter. Shire built the porch from orange beams and a corrugated metal roof.
View Shire's Home Gallery (Stefano Paltera / For The Los Angeles Times)